Skip to Content
Cambria Hotel St. Petersburg-Madeira Beach
Kick Back in Style
Complimentary Wi-Fi
Glass of Sparkling Wine at Check-in
Discount Vouchers at Check-in
Choice Membership Program
What we offer
Ember Rooftop Bar + Pool
Head to the rooftop for a dip in the infinity pool and a stop at our popular bar, where you can savor an inspiring cocktail paired with 360-degree views of the sunset.
Brews & Views
What we offer
Prime
Location
Enjoy the best of all options at our waterfront hotel on the Intracoastal. We have our own marina, and we're just a pleasant bike ride or stroll from the beach.
What we offer
It's All In
The Details
Work out in our fully equipped gym, have lunch on the elevated courtyard, and use the free Wi-Fi while posting about the waterfront views and custom-painted mural.
What we offer
Laid-Back Ambience
A getaway is more than just a trip to a destination. It's a state of mind. Escape to our casually sophisticated hotel, where "vacation mode" is at the top of the amenities list.
Dining
Flavorful & Fun
Order a refreshing cocktail at Ember, our lively rooftop bar where the drinks are only outdone by the showstopping sunsets. And try a delicious spin on comfort classics at our on-site full-service restaurant, Prime Waters, where locally sourced dishes are served in a relaxed setting.
Sip & Savor
Rooms & Suites
Indulgent Stays
Whether traveling for business or pleasure, your trip will feel more opulent in our spacious guest rooms and suites. Plush beds and spa-inspired bathrooms with Bluetooth mirrors are complemented by stylish décor, premium toiletries, flat-screen TVs, and more delightful details.
Rooms & Suites
Sit Back & Enjoy the View
Cabana Life
Take in the sun and fun without leaving the premises at our pool deck, where you can claim one of our comfortable cabanas for an afternoon of relaxation with a view. If you're planning a beach day, why not head out to the sand and surf carrying nothing more than your Wayfarers and sunscreen? Caddy's Treasure Island can set you up in style right on Sunset Beach with a cabana for up to 35 people, complete with couches, tables, lounge chairs, and a cooler full of bottled water.
Plan a Beach Day
Events
Events with Vacation Vibes
Our indoor-outdoor meeting and event space is flexible and can accommodate up to 100 guests, taking your party from effective breakout-room session to relaxing rooftop break in no time.
Plan Ahead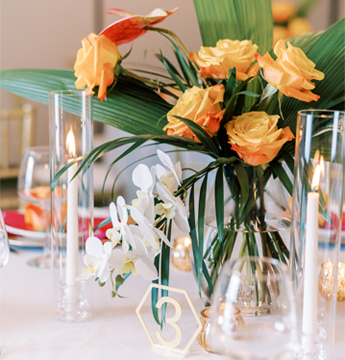 Amazing Company Meeting at the Cambria
"We booked the 3rd-floor meeting room to hold a first-ever regional company get-together. The hotel staff bent over backward to make the event successful, served a delicious dinner on time as planned, and supplied an entire evening of superior service. I could not write a stronger recommendation for the Cambria Hotel"
-mkilpa69 | Tripadvisor
Rooftop Bar at Sunset
"We didn't stay but went for the rooftop bar at sunset. Incredible view of the sunset made it perfect. Drinks were good, appetizers delicious, and staff was friendly and accommodating. "
-Candice M | Tripadvisor
Beach Time at Cambria Madeira
"We really liked the hotel and services it has available. We loved the rooftop pool and bar. At sunset, they provide shots for a toast to the beautiful view. The rooms are spacious, we stayed on the third floor and it was convenient to the restaurant and indoor bar as well as the check-in area. "
-Karen G | Tripadvisor
Excellent Spot for Corporate Events
"Service and food/beverage were superb! Excellent spot for a corporate event with plenty of indoor/outdoor space for mingling. Beautiful views of the sunset from the rooftop deck. The GM welcomed our group and shared with us some unique history about their newest mural by the Vitale Bros. Convenient parking and very clean, well-managed hotel."
-Samantha H | Tripadvisor
Great Time Madeira Beach
"The Cambria is located very close to the beach, a nice walk! Hotel staff was excellent & very accommodating to any needs! The restaurant food was excellent! Great selection of food choices!"
-Marcellapowell12 | Tripadvisor